Academic year 2019
UTokyo FOCUS article, introducing our research project,
"Using spatial analysis to understand Asia's history of water"
Our project is one of the research projects at the University of Tokyo registered under its Future Society Initiative (FSI) which was established in July 2017.
Click to see the article on the web
PDF version is also available.
3rd World Congress of Environmental History – 2019, Florianopolis (Brazil),
22-26th July
Date & Time:

22 July, 2019, 4:00 to 5:30pm

Venue:

Centro de Filosofia e Ciencias Humanas (CFH), The Federal University of Santa Catarina

Panel Session:

"Coping with Monsoon in Asia from the 19th to the 20th Century: Exploring Environmental History with Meteorological Database and Spatial Analysis"

Chair:

David Pietz(University of Arizona)

Indivisual Speakers:


Tomoko Shiroyama(The University of Tokyo), Toshiyuki Miyata(Tokyo University of Foreign Studies), Michihiro Ogawa(Kanazawa University)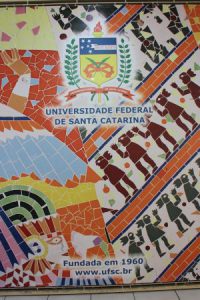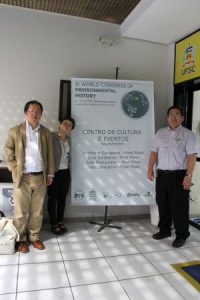 Academic year 2018
Public Symposium "Climate in History, History in Climate"
This symposium is aimed at facilitating an interdisciplinary exchange on the topic of climate in history. As increasing attention is paid to climate changes in our modern world, we are witnessing an outpouring of research on climate history from various historical subject fields. This has enriched the reconstruction and understanding of our climate over time through newly uncovered historical materials and evidence. It is thus increasingly obvious that, just as climate has its history, history has been conducted within the context of certain climates.
As C. P. Snow claimed however, 'two cultures' divide the sciences and the arts and humanities. This has produced a gap in understanding through a lack, or misunderstanding, of joined-up working. Thus this symposium unites scholars working to bridge this gap in "history in climate, climate in history". Building this bridge is critical to facing the challenges that climate presents us with today. We hope this symposium will contribute a stone in constructing a bridge over troubled water.
On the occasion of holding the 11th ACRE (Atmospheric Circulation Reconstruction over the Earth) meeting in Tokyo Metropolitan University hosted by Jun Matsumoto, we are able to bring together a number of international scholars to exchange ideas on multi-disciplinary working with Japanese historians, many of whom are increasingly concerned by climate change. A new JSPS project on climate and history has recently commenced under historian Tomoko Shiroyama at the University of Tokyo. The session will involve leading researchers from the sciences and humanities from Japan and from overseas. They will present and discuss their work on past climate reconstruction from their disciplinary perspectives. These scholars will also hold an open dialogue on future research cooperation. The event will be an occasion for positive out-reach activities for the JSPS projects, as well as a good opportunity for a concerned public to hear about cutting-edge research in climate studies.
Date
17th November, 2018
13:00 – 16:40, open 12:30
Venue
Classroom No.6, International Academic Research Building, 2F,
the University of Tokyo
13:00 – 13:10
Opening speech
Togo Tsukahara (Kobe University)
Co-operation between "History" and "Meteorology/Climatology"
(outlines of an interdisciplinary approach)
13:10 – 14:40
Public Lecture 1
Ed Hawkins (University of Reading)
Unearthing lost weather observations from the early 20th century
Public Lecture 2
Phil Jones and Clive Wilkinson (University of East Anglia)
Finding, scanning and digitizing marine data sources
14:40 – 15:10
Break
15:10 – 15:40
Commentary and Discussion

Rob Allan (Met Office), Fiona Williamson (Singapore Management University)

15:40 – 16:40
Presentation: Work in Progress from recent research by Japanese historian
Tomoko Shiroyama (The University of Tokyo)
Climate, Database, and Spatial Analysis: In Search of A New Historical ResearchDialogue between two representatives of climate/history research
Jun Matsumoto (Tokyo Metropolitan University) and Tomoko Shiroyama., modelated by Togo Tsukahara.
Japanese interpretation will provide for English talks.
Admission free.
Just for preparation of meeting room and handouts etc, please send e-mail with your name and affiliation:
tsukaken.edit(at)gmail.com
Please replace "(at)" to "@".
This symposium is intended not only for the academics, meteorologists/climatologists and professional historians, concerned public and amateurs those who are interested in climate in history and history in climate are all welcome.
For media and public notice, also for any inquiry on the details of this symposium, contact is the above-mentioned e-mail. to address to one of the organizer Togo Tsukahara (Kobe University).
Hosted by:

JSPS KAKENHI Grant Number 17H06116 Project: The Hydrosphere and Socioeconomics in Modern Asia – Exploring a New Regional History Using a Database and Spatial Analysis, Tomoko Shiroyama (The University of Tokyo)
JSPS KAKENHI Grant Number 26220202 Project: Asian monsoon variability during the past 120 years, Jun Matsumoto (Tokyo Metropolitan University)
Research Center for Climatology, Tokyo Metropolitan University

Supported and organized by Fiona Williamson (Singapore Management University) and Togo Tsukahara (Kobe University, JSPS).
A linked event with the 11th Annual Atmospheric Circulation Reconstructions over the Earth (ACRE) meeting.
Access
International Academic Research Building is number 40 in this map.
https://www.u-tokyo.ac.jp/content/400020145.pdf
Access to the University of Tokyo, Hongo Campus
https://www.u-tokyo.ac.jp/content/400020133.pdf
Related links
ACRE: http://www.met-acre.org/
the 11th ACRE meeting: https://tmu-rao.jp/event/4307/
===
The event was a great success. We hope all participating enjoyed it.
The 1st Research Meeting (2018), the India Group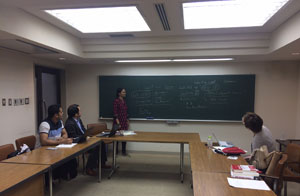 | | |
| --- | --- |
| Date | May 11, 2018 |
| Venue | Satellite Plaza, Kanazawa University |
| Sponsor | JSPS |
16:30-17:20
Sayako Kanda
Michihiro Ogawa
Atsushi Kobayashi
Research Meeting (Closed),
On the progress and prospect of research, this academic year
17:30-19:00
Dr. Akanksha S. Kashikar (Department of Statistics,
Pune University)
"Statistical Modeling of Mortality and Morbidity among the Victims of Bhopal Gas Disaster"
"Agriculture and Farmer Welfare in Maharashtra"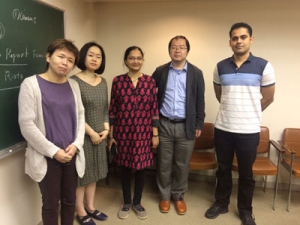 Academic year 2017
International Workshop 2018
The International Workshop offered 5 presentations from invited researchers and 9 from our project members.
| | |
| --- | --- |
| Dates | Febraury 3 – 4, 2018 |
| Venue | Kojima-hall, Graduate School of Economics, The University of Tokyo |
3rd February
13:00-13:15
Tomoko Shiroyama
Introduction of the Project
13:15-14:15
China Group
Takeshi Hamashita
Considering the Hydrosphere from the Perspective of Chinese Maritime Customs Records
Yoshinori Kigoshi
Asia-Pacific Nexus Reconstructed from Shipping Intelligences of the Port-City Newspapers
Ei Murakami
Trade and "Pirates" on the West River during the Late Qing Period
14:15-15:15
Ka-chai Tam
The Historical GIS for Judicial Cases from the Coastal Provinces of Ming and Qing China (1550-1850
13:00 – 15:15 a report written by a student (PDF)
15:15-15:30
Coffee break
15:30-16:30
India Group
Sayoko Kanda
Seasonality of Trade in Colonial Eastern India
Michihiro Ogawa
Droughts and Famines in the 19th Century India
16:30-17:30
Sunil Amrith
The Monsoon and South Asia's Development
17:30-17:40
Tomoko Shiroyama
Closing Remarks for Day 1
4th February
10:30-11:30
Akiyuki Kawasaki and Chang Liu
Reproduction of flood inundation in the Yangzi River basin in 1931
11:30-12:30
Shi Xie
Human-Water Interaction and Technological Options in the Development of Lower Yangzi Delta (15th -17th centuries)
12:30-13:30
Lunch
13:30-14:30
David Pietz
China's Yellow River: Managing Scarcity on the North China Plain
10:30 – 14:30 a report written by a student (Japanese) (PDF)
14:30-15:30
South East Asia Group
Toshiyuki Miyata
Agriculture, Land Transactions, and Climate Changes in the Early 20th Century Thailand
Atsushi Ota
Climatological, Trade, and Agricultural Data from Netherlands East Indies
Atsushi Kobayashi
An Analysis of Meteorological and Trade Data or the Early 20th Century Sarawak
15:30-16:30
Punnee Bualek and Supunnee Pladsrichuay
Rice Production and Trade in Bang Khen Field from 1867-1967
16:30-16:45
Coffee break
17:00-18:15
Kohei Wakimura,
Bin Wong
Comments
General Discussion
17:00 – a report written by a student (Japanese) (PDF)
a report written by a student for all presentations (PDF)
We had a very productive meeting and were able to discuss the great progress on this issue. Thank you for taking your time.